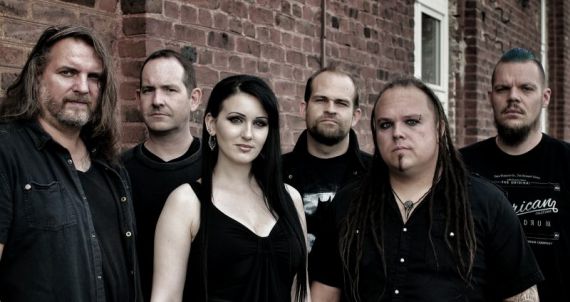 Harvest time is here.
A beast has awakened. And it was high time for it to do so: Gothic Metal is stagnating; one half of the genre has gone soft, the other half desperately tries to convince us that it is still 1995. But is this reason enough to declare this genre dead? No way! Aeverium must have thought the same – and removed all the dust that has cumulated on this music. They cleansed this genre of its cliché-laden insignia, its pseudo-romantic pathos and its so-called rules. A new power is rising – and we are the witness when Aeverium is bringing in its harvest.
A lot of things are bound to happen this year. Bands will form, bands will disband, records will be relased, records will be forgotten. Who indeed is still game with this boring routine? With Aeverium a modern metal band enters the scene, wanting more, a project keen to show its prowess and in the same breath take the world by storm. Six musicians who finally found together in 2013 after a long and tiresome seach to release their common dream of a real band. Six individuals far from being greenhorns and destined to survive this rat race of bands.
"What urges us on is living out our creativity, the desire of taking part in a creative process and, obviously, our love for music", says frontman Marcel Römer. And his band lives up to this: This is not the place for hasty decisions, this is not the group aiming for fame at whatever cost. Aeverium have been lurking in the shadows for quite some time now. Now, they leave their lair as the hardened, self-confident and teeth-barring Metal beast they are. "We know how this industry works and how difficult it is to stick out", comments Marcel.
Nonetheless, vocalist Aeva and her boys have already proven they are very well capable of doing so, with their release of the "The Harvest" EP last year. Their approach to Modern Goth Metal is far from the ordinary "beauty and the beast" rip-offs and happens to be a strong, mystic, aggressive and exquisitely produced mixture of Gothic epicness, smothering power and a modern edge reminiscent of Evanescence, KoRn or HIM. Rock, Metal and the dark side of Alternative, united under a catching atmosphere, notably silencing those who think in stereotypes Marcel: "The music is created just the way we feel like at the moment: no faking, no compromises, 100 percent human, 100 percent musician, 100 percent Aeverium."
This pays off already: Scene mags like Orkus! Already discovered the troupe that effortlessly reached the finals of the M'Era Luna newcomer contest. Still, this is just the beginning for Aeverium. The goal: Gigs, gigs, gigs – and a debut longplayer. "We want to rock the stages of this world, leaving them drenched in sweat and with smiling faces on both sides", Marcel nods. No matter if it's the biggest festival stage or a small club venue. As long as they can play live, Aeverium are happy. "We want to get heard by the people. We most definitely are a live band like there is no other and being on stage is like to live like a bee in clover", Marcel grins. Judging by the sheer mass of optimistic ambition, it will not be long until Aeverium have become a household name on the schedules of festivals and tours. However, they will take the time necessary to reach this. This has already took them far and will undoubtedly carry them much further still.
In October 2014 they signed a record deal with "Out Of Line" (Blutengel, Staubkind, The BirthdayMassacre, Heimataerde a.s.o.)